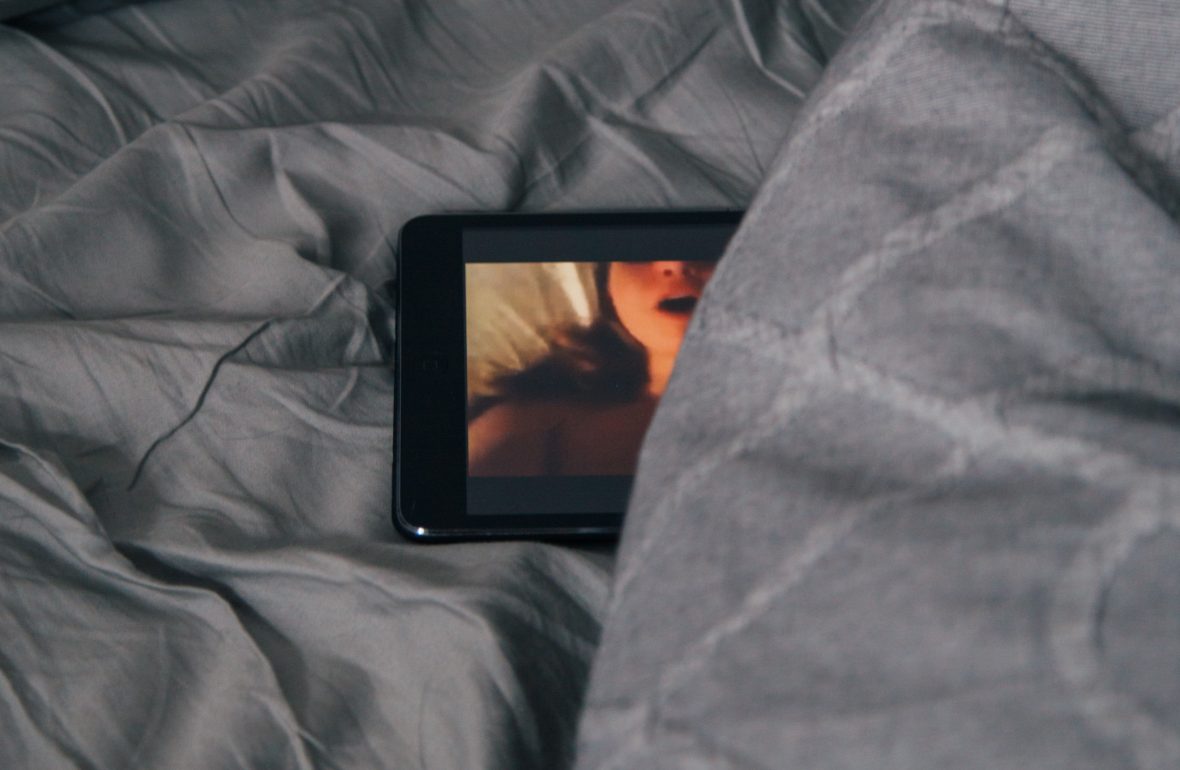 Hi and welcome to part 3 of my treatise on smartphones. Part 1 and part 2 are here for your enjoyment – but feel free to start here if that's your bag.
Do you remember the good ol' days when a man who wanted to wander with his nether sexual parts had to leave his abode, physically walk into a seedy part of town, enter a building known by everyone to be a house of ill repute, and THEN and ONLY THEN dive into the dark arts? No? I don't either… But up until recently (let's say the past 80 years or so, out of the millennia of human existence), there were effectively NO options for having your illicit fancies tickled (or tickling your fancy… or whatever you call that thing) that didn't require you to at least risk public exposure:
"Did you guys see Carl just walk into the brothel? I'm pretty sure I just saw Carl walk into the brothel! Carl, what the stink are you DOING you hot dog toucher!? You have 6 kids!"
"Oh hey guys! Yeah, well, the missus can be, you know, a little AWKWARD at times… but these girls inside- have you heard of these? You just pay them money and they act like they're in LOVE with you! They'll take their clothes right off and you do whatever–married or not! Doesn't matter to them! It's great!"
"Carl you loser."
That's kinda how it went–for a very, very long time. Later, of course, we got Playboys and dirty VHS tapes, but even still– you had to show up at a counter and sheepishly hand your money over to a human so that you could go take the sausage hostage in the privacy of your home parlour. Even in that state, it was like "here's the smut OVER HERE… if that's what you want, enter the ADULT VIDEO STORE or buy a dirty mag in shame."
But, as you all know, that has now changed–permanently. It started with the pixelated dial up internet boobs and has morphed into always-available high definition hardcore pornography in your pocket at all times wherever you are.
…and it's crushing most of you guys right now as you read this.
How'd I find out your secret? Josh McDowell recently commissioned the biggest study ever done on the topic of pornography in the church. Here's some of what he uncovered:
37% of all internet activity is pornography. (So stop saying the 'net is morally neutral.)
95% of men who claim to be born again admit to looking at pornography (37% say on a daily basis). Ugh.
Amongst pastors, 57% of men report looking at it. Ugh.
33% of people report trying to stop and failing, but teens and young adults are more likely to report that 'not recycling' is more immoral than looking at porn. Think moral standards are changing? Do ya?
The vast majority of pornography is consumed on cellular phones these days.
So those of you who were denying my assertion above can just can it. Most of you are actively dealing with this issue – either out-and-out addicted right now (our definition of which is, "you say you don't want to go to pornography, but you do so on at least a monthly basis"), occasionally stumbling into online porn, or you've dealt with this in the past at some level. The science says I'm right–and that most of us fall into the "addicted" category.
If that's true, then, as my good friend George Thornhill says, we're like a bunch of starving men who are carrying a poison snickers bar around in our pockets. It makes no sense. Let me expound – some of you guys have sat down for a little time with the HOLY BIBLE app on your smartphone and ended up browsing the day's selection of instagram models. This particular snake bites, regardless of intention. I really do believe that few men who read this are setting out with the intention to view pornography, but many of us are ending up in that spot nonetheless…
BUT I JUST CAN'T SEEM TO FIGURE OUT HOW THAT HAPPENS.
(I'm lying. I figured it out.)
Pornography's effects don't end with your phone time (which is 21% of your waking hours these days, on average). The ways in which always-on hypersexual content has changed your brain extends to the time when you're not staring at your phone. It changes the way your head swivels when you're walking the mean streets, invading your thoughts and views towards every single woman you cross in your daily life. Because that's what porn does to your brain. It's not innocuous, and it's not over when the paper towels are in the trash (ew).
(Hey, if you're starting to get that nervous, "He's cornering me" feeling… relax. Good news is coming. But we've got to get honest first. Gimme a minute.)
The scriptures aren't silent on the issue of sexual temptations. Although the technology has driven these drives far deeper into secrecy than they could have ever been before and allowed us to see things that we'd never have come up with on our own, the hardware has always been there.
1 Peter 5:8 – Your enemy the devil prowls around like a roaring lion, looking for someone to devour.
Catch that metaphor son? A roaring lion is no joke. You have no chance heads up against a lion. So let's not stack the deck against ourselves by hanging a slab of ribs off of our backs whilst on safari, shall we?
James 1:14 – But each person is tempted when he is lured and enticed by his own desire.
"There you go Mark", says you, "It's not my phone, man, it's my heart, dude- the place where my desires reside. Porn is a problem for me, and yes it's eating away at my soul, but I'm going to keep the phone and work on my heart", brother.
Hm. Lucky for you, the scriptures agree. They suggest that you keep all the pornography on your person at all times and hope that your heart changes so you'll stop wanting to look at it. That's smart! And you're such a tough character that I could dangle and entire Lululemon fall workout line of tight, curve-hugging spandex in front of you and you'd be unmoved, non-excited, and definitely not aroused! Wow. Cool.
Wait, what's that? The Bible DOESN'T support that logic (that almost all American men use on a daily basis)? They DON'T tell us that being current with the times, or "available for work" around the clock, or having access to all information at every waking moment is inherently justifiable? Er… no. They actually say – RUN in the opposite direction when you see sexual sin crouching in the corner:
1 Corinthians 6:18 – Flee from sexual immorality.
Paul doesn't use the language of "run away" all that often. He wrote whole letters about living in rough places and being light while imaging Jesus. He was not Amish in his impulses towards retreat. But when it came to sexual sin, he says, "get the hell away. This thing will CONQUER you. Don't enter into a fistfight with a lion. RUN BOY!"
This RUNNING AWAY thread goes all the way back to the beginning of God's stories. We hear about Joseph and Potiphar's wife early on in Genesis: This young man was getting regular promotions and rising in the ranks of the household of one of the most powerful men in Egypt. Then one day the Bible's O.G. MILF (get it, porn users?), Mrs. Potiphar, approached him and offered him some lovin sauce. He could have said no and given her a little wink then started looking for a new job, but he knew about this running away thing and so he took off, literally, and left his clothes in her hands (which she was most likely in the process of forcibly removing from him). Joseph did this knowing that he was a slave, and he wasn't going to fare well in court of public opinion against the wife of a city leader. For Joseph, that calculus wasn't hard to analyze in the distance between the sofa and the front door, which he happened to cover whilst feeling the breeze on his nutsack. But he ran nonetheless. DON'T YOU LOVE THIS GUY?
The results were predictable: prison and public labelling as a rape attempter (guess what: they went with her side of the story). "BUT THE LORD WAS WITH JOSEPH." Yeah; God likes the bros who pay the price for integrity and a clean conscience. By the end of Joseph's story, we see that his spontaneous (and naked) run towards purity was the better part of wisdom: He inherited almost total control of the Egyptian empire and used his influence to save the entire nation of Israel. Fleeing from sexual immorality is the inescapable command of the entire thread of scripture.
So when I connect the reality of the modern believing man, coupled with the counsel of scriptures… (I'm about to issue a big statement. It's basically the point of this whole post. You ready? Okay, get ready:)
I submit that you cannot carry a smartphone and concurrently avoid pornography. There, I said it. Prove me wrong. Somebody debate me. Again, you just should not be carrying a pornography portal around with you. Sorry, but I can't take a man seriously these days if he tells me he's really having a hard time not looking at porn but that he can't give up the Samsung Galaxy because he needs to send emojis to his coworkers. If you must, console yourself with the myriad of other benefits you'll receive by switching to a less distracting device. Not leastly, saying yes to God's command of RUNNING FROM IMMORALITY is a whole lot better than having access to Uber or having an easy map to the new sushi place downtown.
So what do I suggest? Simply that we allI consider making a small change in our device choice. It will be viewed as radical and perhaps controversial ("Why aren't you responding to my emails at night, Johnson!?" "Problem with my johnson, sir…"), but it's really NOT that big of a deal… and it will feel like freedom. Tune in next week and listen to me give you detailed reco's for phone options that WON'T turn your soul into cottage cheese. (I'll even run some numbers by you to highlight the financial benefits of this move! That's bonus!)
Until then… lock that iphone in a desk and start shopping a few other options.