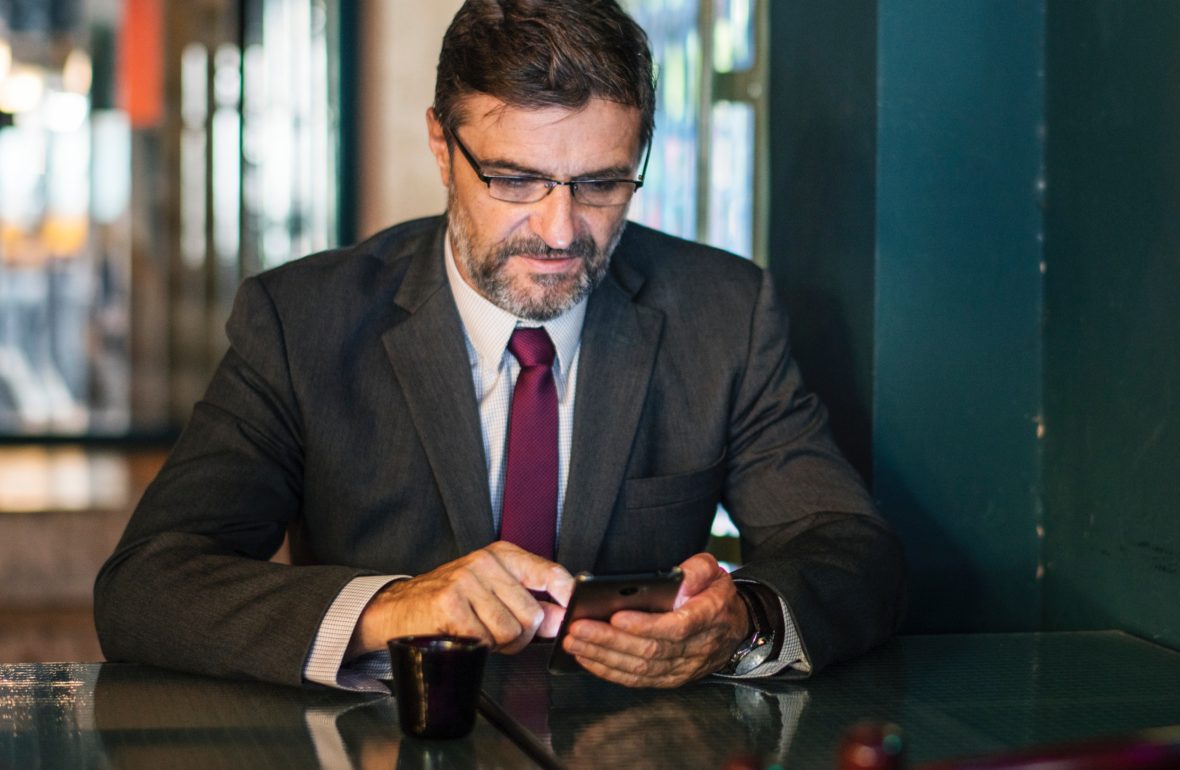 Ok fellas, if you are just showing up to this tech party, check out my intro article on smartphones first. That should help you understand why I'm interested in devoting so much ink to the simple question that now dominates my thoughts (at least, until I finish writing this article): What Kind of Phone Should I Carry?
By the end of this series (by which, I WILL get to the answer to that question), you'll have my thoughts on how these devices change your state of mind, sex life, intellect and finances. If it sounds like a lot–it is. I think tech has massive repercussions into our lives. Anyway, let's get started, boys. Here's today's topic:
On Presence,
Distraction,
and Silent Boredom
I did some field work for this article – congratulate me! Okay, actual scientific research it was not, but it's a start: I went to pick up my daughter from school a little early and I walked down the line of cars filled with moms and dads who were waiting to receive their children after school. In total there were 23 vehicles lined up waiting. And I counted 2 parents who were talking on the phone. THE REST OF THEM were looking at their smartphone screens. Zero people were reading a book made out of paper, and nobody was staring at the picturesque mountains that loom majestically above the school.
One more statistically insignificant data point for you: I had an appointment the other day and I arrived 10 minutes early. I was received and offered a seat outside of the office where I was to have a meeting, so I sat down and began to wait. Now, the other offices opened to this waiting area as well, and one man saw me sitting and waiting with no smartphone and I assume it was just too painful for him to watch. He came out to the waiting area and OFFERED ME HIS PHONE because his empathy for the non-phone-enabled waiter was just overpowering. "No thanks I'm just waiting for an appointment here". So then he pulled up some music on this phone, turned on the speaker, and left me listening to some contemporary Christian tunes in the office lobby. Bless the guy for his hospitable intention… but folks, I think we have developed an extreme aversion to boredom that might be problematic.
You keep him in perfect peace whose mind is stayed (locked, fixated)on you, because he trusts in you. -Isaiah 26:3
Be [real] still and know that I am God. -Psalm 46:10
Why might boredom be important? First, we need to hear God, and that requires us to have unoccupied brainspace. David tells us in Psalm 4:4 to lay in bed pondering in our hearts at night, being silent. But that quiet boredom, in which our mind dawdles and turns over a matter, it seems, is going extinct. Of course boredom itself hasn't gone extinct. I think that most of the moms waiting in the school pickup line and thumbing through their social feeds are bored as hell, but it's an active boredom. It's a boredom which is filled with inane, vapid flotsam. It is constant muttering that begets nothing. There is no space in this modern, noisy boredom. And I contend that what I'm calling "silent boredom"–the waiting, the sighing, the reflection, even the loneliness or longing–is to be protected. Again, if THAT version of boredom goes extinct, so too will our ability to engage with our Father in deep, meaningful, fulfilling ways.
I hope that possibility scares the engine grease out of you; it does me. So please, ye Abrahams, look for moments to protect silent boredom. And yes, this does require some bravery, some non-comformity and some resolve. If you must, revel in being the only person standing in line, waiting in the waiting room, etc. who is doing… nothing. Don't fill up that precious space with digital miscellany. Let that silent boredom (and perhaps monotony) be; let it do its work of cleaning out your mental attic, of sweeping up and letting some breeze blow. See what happens.
I believe that I shall look upon the goodness of the Lord in the land of the living! Wait for the Lord; be strong, and let your heart take courage; wait for the Lord! -Psalm 27:13
If you attempt to walk this road at all, you'll soon discover that silent boredom is pretty hard. We as a culture have so completely rid ourselves of empty space (prove me wrong but I say this is largely BECAUSE OF SMARTPHONES), that even the average unspiritual hipster is seeing the value in forcing themselves stop and be quiet. And they aren't even trying to hear the voice of God! You are trying to hear the self-described "still, small" voice of God (1 Kings 19:12) and yet you're filling every moment in your life with screen time? Come on. Want to know "the things of the Spirit of God"? 1 Corinthians 2:14 says they are spiritually discerned and they are "folly" (dumb nonsense) to the natural person. Yes son, you're going to have to tamp down some internal noise if you're after those nuggets.
The natural person does not accept the things of the Spirit of God, for they are folly to him, and he is not able to understand them because they are spiritually discerned. -1 Corinthians 2:14
If a quiet mind is a prerequisite for hearing God, and if taking repentant steps back to quietness will be painful, I'll be the first to raise my hand as being guilty of falling short. I do a lot of running in an average week, and for the most part, that's when I catch up on my favorite podcasts. Running in quiet is about 10x harder for me than distracting myself with some Bill Simmons or Jocko Wilinck. But I'm here to testify that pushing through some silent boredom (waiting on the voice of God to emerge, you might say) yields results. Whether it's on a run or in the burrito line, I've been hearing God say "turn off the damn podcast and listen to me for a little while". And saying "yes" to this invitation has led to exactly what is promised – seeing more of God's goodness, hearing words of correction or affirmation ("this is the way; walk in it", for instance) and increasing trust in my Father.
And your ears shall hear a word behind you, saying, "This is the way, walk in it," when you turn to the right or when you turn to the left. -Isaiah 30:21